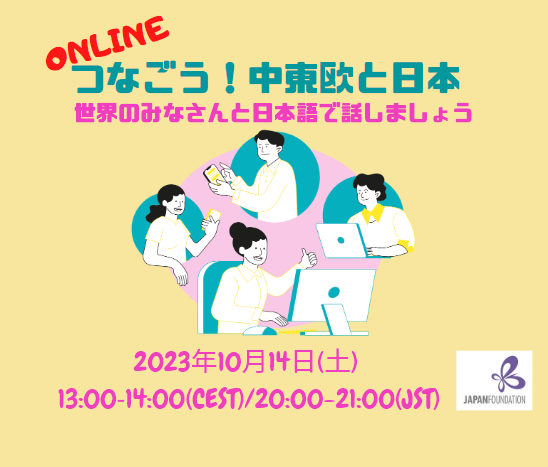 ===============================================
Online Chat Session "つなごう!中東欧と日本"
Starting in October 2023, we will hold an online chat session titled "つなごう!中東欧と日本" that will be held from October 2023. The purpose is to provide an opportunity for communication using Japanese language between native Japanese speakers and those who are studying Japanese in various countries in Central and Eastern Europe.
For those who are studying Japanese, If you are studying Japanese, please feel free to join us!
・I want to try out the Japanese I have studied!
・I want to communicate with various people in Japanese,
No matter what your level of Japanese is or what age you are, we are looking forward to seeing you!
The first meeting will be held on the following date and time.
October 14 (Saturday)
Central European Summer Time: 13:00-14:00
Japan time : 20:00-21:00
Capacity : 40 participants
Participation fee: Free of charge
Theme :"My Hobby"
This event will be held via Zoom. If you are interested, please pre-register at the following link.
https://us02web.zoom.us/meeting/register/tZMkfuyopj0iH9aPoF1bmWXaQfHGfLljDNvQ
We are sincerely looking forward to your participation to make this an enjoyable social gathering!
Please check the Japan Foundation Budapest website, newsletter, and Facebook group for information on future events!